I am not sure
whether
this is a UFO or a
WIP
. I started this quilt several years ago. This summer I pulled it out and finished the piecing. I love it!!!!!
It has many fussy cuts.
Blocks are 12 inches.
Each one is different. Seminole border was fun!
The back is even done.
Complete with its own fussy cuts!
Even the binding is made. Only one problem. How to quilt it!! I would love some suggestions. I am a novice at machine quilting, but I want to do justice to this beauty. Help friends!!!!
Also, I am playing pay it forward!! I threw my name in yesterday over on Dee's blog (see her on the side bar). So here are the rules:
1. You must have a blog to play.
2. The first three people to comment agree to play pay it forward by posting on their blog and playing with the first three people that comment on their blog.
3. I agree to send, sometime withing 365 days, a gift to those same three people who commented on this blog post. (That is the "playing" part!)
There, clear as mud!!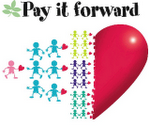 Many blessings,
KT
P.S.
LOL!!! I drafted this post on Monday, and posted it on Tuesday, and I just realized that it is dated for Monday. Anyone know how to change that? Does it matter?
KT