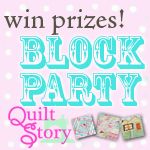 This is a Garden Walk block that I made using '30s reproductions. The pattern can be found in Eleanor Burn's book, "Egg Money Quilts". It is one of my favorite blocks of all time! The poor darling is languishing with its siblings in a box, crying out to be quilted. This is the year of finishes!!!
This is one of the blocks I made for Anina's Pinwheel Party. You can find the links and everyone else's quilts and blocks by using the pinwheel party button on the left sidebar. Such a fun new spin on the pinwheel, and I added fussy cuts to all of the squares for a little fun! This quilt too is calling to be put together this year!!
This block was made for my January Sew Bee It. Meredith asked for four letter words and sent the most wonderful fabrics. You can explore all the goings on of this bee and the wonderful ladies in it by using the Sew Bee It button on the left sidebar. I just couldn't resist using the cute little birdie for the dot in the "i". Love me some fussy cuts!
Be sure to visit all the other wonderful entries in the Block Party!!!
Blessings,
KT